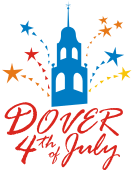 A Celebration of Independence in the Capital of the First State
Dover Fireworks, Concerts Cancelled For High Winds

Due to high winds, the fireworks scheduled for tonight, Sept. 3, in Dover must be cancelled. Under state fire regulations, a fireworks show can't occur with winds of more than 20 miles per hour, and the current forecasts for this evening are for sustained winds between 21 and 25 miles per hour with gusts into the 30s. Given both the regulation and the close proximity of Dover's fireworks to buildings and homes, it would not be safe to have the show in such conditions.

The fireworks, band concerts, vendors, pony rides and moon bounces scheduled for 4 p.m. will not take place this evening. However the daytime events scheduled for the First State Heritage Park sites and Biggs Museum for today will go on, with sites closing at 4:30 p.m.

The backup date for the fireworks was Sunday, but the forecast is for even higher winds and greater chance of rain, so there is no current reschedule date.

The Sept. 3 fireworks show had been rescheduled from July 4th by the Dover Fourth of July Committee after a weather-forced cancellation that day.​

Thanks again to all our volunteers, sponsors and supporting organizations for their efforts!!
---
2016 SPONSORS
Dover's annual Fourth of July celebration is made possible only through the generous donations of local businesses and individuals. Please consider becoming a Sponsor or Adopt-a-Firework and show your support for this community event!
FRIENDS OF THE FOURTH





Charles & Shirley Cunningham
Thomas & Gail Vella
​Jerry & Margie Tucker
​Julia Painter
Rusty Clark
Merle Norman Cosmetics
​James Goldsberry








ADOPT-A-FIREWORK
Adopt-A-Firework Today!!
You can "adopt" individual firework shells that will be fired during the big show on Monday, July 4, 2016! This also m nhakes a great gift to recognize a special event or as a memorial for someone special. Or "adopt" one for your community, organization, club, or group!
TOM&KATHY DIX 2016
Dan & Phyllis Marsh (2)
The Speed Family
​In Memory of George Washington
​Lori N Christiansen (2)
​Sally Dill
​A[lly] J Mclellan (2)
Maureen Rose
Michele Violet
Edgehill Community Church of God
Arthur and Roberta McQueen
Alan and Janis Geddis (2)
SJ Gary, CPA
Stephanie Steckel DDS
​Cecelia Dunning