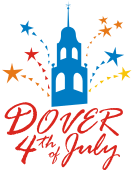 A Celebration of Independence in the Capital of the First State
The weather got in the way on July 4th, but join us in downtown Dover on Labor Day weekend for a full day of historical tours and activities for all, games and fun for children, food and craft vendors, two live musical performances and – better late than never – our "Dover 4th of July 2.0" fireworks set to music from the Broadway show Hamilton.

​See the full Schedule of Events for September 3rd

Thanks again to all our volunteers, sponsors and supporting organizations for their efforts!!

---
2016 SPONSORS
Dover's annual Fourth of July celebration is made possible only through the generous donations of local businesses and individuals. Please consider becoming a Sponsor or Adopt-a-Firework and show your support for this community event!
FRIENDS OF THE FOURTH





Charles & Shirley Cunningham
Thomas & Gail Vella
​Jerry & Margie Tucker
​Julia Painter
Rusty Clark
Merle Norman Cosmetics
​James Goldsberry








ADOPT-A-FIREWORK
Adopt-A-Firework Today!!
You can "adopt" individual firework shells that will be fired during the big show on Monday, July 4, 2016! This also m nhakes a great gift to recognize a special event or as a memorial for someone special. Or "adopt" one for your community, organization, club, or group!
TOM&KATHY DIX 2016
Dan & Phyllis Marsh (2)
The Speed Family
​In Memory of George Washington
​Lori N Christiansen (2)
​Sally Dill
​A[lly] J Mclellan (2)
Maureen Rose
Michele Violet
Edgehill Community Church of God
Arthur and Roberta McQueen
Alan and Janis Geddis (2)
SJ Gary, CPA
Stephanie Steckel DDS
​Cecelia Dunning